OUR CHEESY BUT TRUE STORY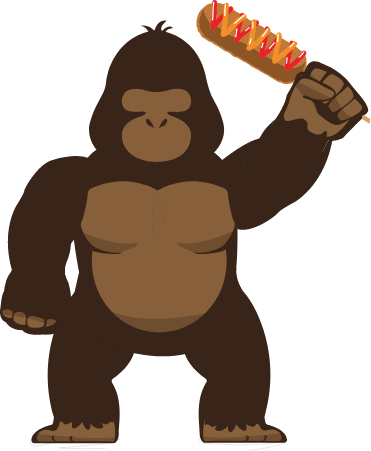 In September 2021, Kong Dog opened its first location in Glenview, Illinois amidst a flurry of positive reviews. Through word of mouth, people soon began lining up to try a new twist on an old favorite -The Corn Dog. Soon after, the Kong Dog team realized they had something special on their hands & decided to carry the momentum by opening new locations.
In December '21, the first franchise location opened on Taylor Street in downtown Chicago (near UIC) to rave reviews! In a city that takes its hot dogs seriously, Kong Dog was making a name for itself, and for good reason: these Corn Dogs taste great, look great and are fun to eat! Proving that the love of these delicious dogs was not relegated to the Chicagoland area, more stores have popped up in other states with THE GOAL OF 200+ STORES IN 5 YEARS!
WE'RE THE KING OF THE DOGS;
DON'T JUST TAKE IT FROM US...
#5 on " The 10 Hottest Restoraunts in Chicago Right Now"

"Kong Dog has resently blown up in the TikTok world and is worth the try if you're a corn dog fan or willing to try new flavor profiles"

"There were long lines of people excited to daily check out the menu"
"I am proud to be a franchisee of the Kong Dog brand, and running a franchise has been an incredibly positive experience for me. Although it took some getting used to, I now appreciate the many benefits that come with being part of an established brand. From the convenience of having pre-existing resources at my fingertips to the sense of community and security that comes with being part of a more extensive network, I feel that running a franchise has been one of the best decisions I have ever made.
- JULIA K.
"It's very easy to work with Kong Dog, we pay a reasonable initial fee and the company help us start with everything including training, inventory and marketing. The company also build up an easy inventory ordering system, so we can easily place the order online. And depends on different holidays we will have marketing campaigns which help the sales increase. Overall I love working with Kong Dog, it's something that you do the effort and you really gain.
- Nicole J.
"Having the security of a franchise has made opening my Kong Dog much easier and stress free. Being a first time business owner, there are many things I am not familiar with and/or need help navigating and having the franchise has made the process go by so smoothly with little to no bumps. I know I can count on them if I am in need of anything and that I have a large support network.
-Gloria J.
KONG DOG FRANCHISING
OPPORTUNITIES
Complete the form below and one our franchise team memebers will reach out